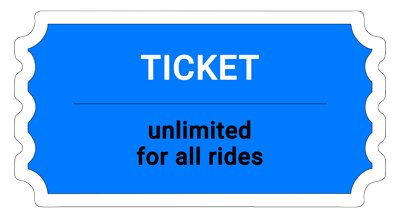 Ticket for unlimited use of all rides - weekends and holidays
35 BGN
Unlimited use of all rides for 1 child or 1 adult
WHEN: Weekend and holidays
PRICE: 35 BGN per child
The unlimited use of all rides gives you the freedom to use as many rides as you wish within the working day. You have to pay at the pay desk inside the luna park and you receive a bracelet for all rides.
You can leave the luna park and come back again. If you want to leave and come back during the day, please, keep your bracelet and your receipt (standard price: 24 BGN).
LunaShow (Saturdays at 6.30 pm)
Puppet show  (Sundays at 11.30 am)
1 stamp on the Boby & Kelly's Best Friend card (for every 3 (three) stamps collected you get a ticket for unlimited use of rides for free). You will receive the card at the pay desk at the luna park on your first visit.
1 voucher for 50 BGN discount for Birthday party, celebration of baptism, name day or other family event (you will receive it at the pay desk at the luna park).
Indoor in the castle: Kids' playground Little Jungle with two levels, Kids' playground Big Jungle with three levels, Air Cannons with foam balls, Boeing 747 – Airplane Simulator, Happy Bounce Trampoline and Captain Cook's Gondola.
Outdoor in the garden: Drop tower Monkey Jump, Castle Carousel, Tea Cups Carousel, Happy Bounce Trampoline, Kitty Train and Jump Around.
Children 0-3 years old use rides with an attendant, if necessary. Attendants ride for free.
*Please, note that we consider as attendant only 1 (one) person, who has to be over 18 years of age. A second attendant of the same child would have to pay for using the ride.  
Luna park Boby & Kelly Team
Operators – each ride has at least 1 operator, whose task is to seat the children on the rides and oversee their comfort and safety. (In the Jungle playground there are 2 to 6 operators).
Entertainers – take individual care of each child and/or a group of children, including accompanying them around the rides, playing with the child/children.  If necessary, ride on the rides with them. This service has to be booked in advance for an additional fee.
Animators – a creative team of professional actors and animators, who entertain the guests with a theater and dance program, including entertaining and relay games with the children. This service has to be booked in advance for an additional fee.